España: Campeona del Mundo

It's all over folks. The 2010 football World Cup in South Africa has finished in spectacular fashion and Spain has gone home victorious.
The final itself wasn't the best game of football I've ever watched and I was quite disappointed. I wanted another goal-fest: four a piece (with a few amazing long range shots) with a final last minute goal to seal it all in spectacular fashion within 90 minutes. Instead we got the Dutch trying to kick the mierda out of the Spaniards with the game comprising 14 yellow cards (the Dutch should change their national colour to yellow), one red and a single goal 4 mins from the end of extra time.
Aside from the final, I think it's been a great world cup and I think South Africans all over the world should be very proud of themselves. They managed to pull off the most popular sporting event in the world in impressive style and left a permanent mark on the history of football (vuvuzelas forever!! ;-) ) and with some pretty impressive viewer and attendance figures too. Apparently this world cup saw the highest television viewership figures and the 3rd highest attendance in the history of the World Cup. Sepp Blatter was certainly impressed...
I would say now they deserve a nine on 10, and a nine on 10 at the university level is a doctorate summa cum laude, so it's the highest ...
Perfection does not exist in our life, also not in the World Cup.
— Sepp Blatter
Now if that's not a huge compliment to be proud of, I don't know what is.
What's more, South Africa has proven to the world, or more specifically the British tabloids, that it is a wonderful, friendly and beautiful country that can and does pull off the major sporting events without the blood shed and violence they reported every visitor to South Africa would be affected by. All the fear-mongering in the months before the world cup turned out to be the usual sensationalist mierda the tabloids spew on a daily basis.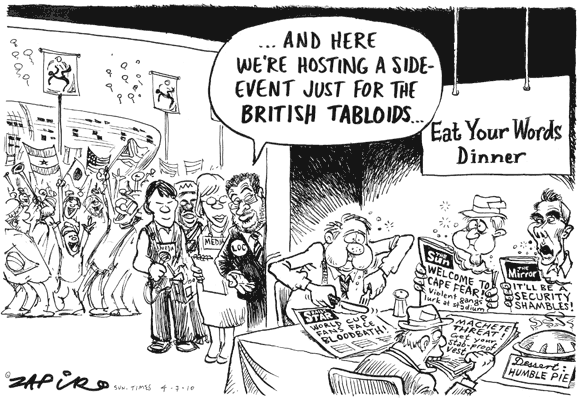 Congratulations South Africa. You've done yourselves proud and I really hope this world cup sees South Africa climb up people's investment and holiday destination lists and the increased exposure and investment will help South Africa evolve and prosper to levels never seen in Africa. The World Cup success is also the perfect springboard for South Africa's bid to host the 2020 Olympics. You've hosted Africa's first rugby, cricket and football world cups, so why not Africa's first Olympic games? Good luck South Africa. I can say I'm really proud to be South African.