Kettering to London on 23 May 2009
If you plan on traveling the 80-odd miles from Kettering in Northamptonshire, to London St Pancras on Saturday 23 May 2009, you may want to think again.
Due to engineering work, this just-over 1 hour journey will be taking you a mammoth 18 hours and will include no less than seven changes, five bus journeys, a kip on a station floor and a trip on the London Underground.
Here's the official route for the 295 mile journey, courtesy of East Midlands Trains: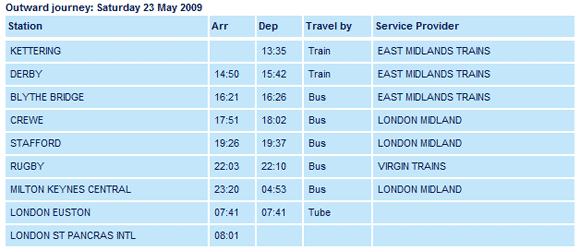 Given this, it will literally be quicker to cycle, maybe even walk, into London on that day.
For those of you not traveling from Kettering, you may still want to check your local rail company website as bank holiday weekends are notoriously bad for rail travel.