O'Gara Gives Away the Series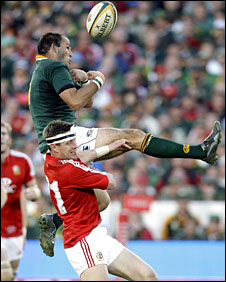 What an exciting game yesterday's British Lions vs The Springboks test was. It was a really exciting and nail biting game which, given the way the game started and the overall statistics, South Africa really shouldn't have won.
However a spectacular 2nd half of the 2nd half (or last quarter for the pedantic) by the Boks changed the outcome of the game and we saw Ronan O'Gara gift the Boks with the game and series win with this beauty in the last minute of the game, which Morne Steyn slotted between the posts from 53m.
If we look at the possession, territory, penalties conceded and over all play for the match, the Boks should never have won, but if we look at it like the British press do, and count up all the missed kicks, the Boks should have thumped the Lions.
Whichever way you look at it, it was a great game, but a shame the series has now been decided. It would have been a brilliant encounter next week had it been a decider. I suspect next week's game will now have a completely different feel too: the Boks don't have to win, so may be more experimental and the Lions are facing a white-wash, so they're not going to reciprocate. We'll have to wait and see.