Wagamama's has Landed in Reading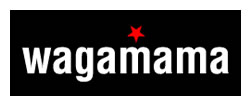 Today Claire and I popped into town for a little bit of shopping and to get some lunch. After visiting the health food shops for some stuff I needed, we headed over to the Oracle to get some grub. We decided we'd try a new Japanese restuarant called Wagamama, which has recently opened.
I must say, it's a very unique experience and a fabulous restuarant. It's clean and almost spartan looking with rows of tables with little benchs instead of chairs. All the food is prepared fresh in the kitchen bit that opens onto the restuarant. The service is quick (except for when we came to ask for the bill) and friendly.
When you order, the "server" enters your order onto a little PDA thing that beams the order back to the kitchen/bar and also writes the number of everything you ordered onto your paper place mat almost as if indicating where each item will be placed.
The above image shows that our order/table number was #232, I had a #90 to drink, a #101 as a side dish and a #40 as my main meal. All pretty slick, and then of course whoever brings your food to you knows who's having what without asking.
Another nice touch is the dessert menu is also written on your place mat, so there is no need to ask for the dessert menu.
Well, after today's lunch, I say, "Move over Chinese cos Japanese food rocks."