We're Off on Our Honeymoon
Just short of 3 months after the big day, Claire and I are finally off on our honeymoon. We didn't go on our honeymoon straight after getting married as Mum and Sam were over from South Africa for our wedding, and we also needed to do a bit of saving.
Well, we're all saved up, packed up and hopefully boarded and in the air somewhere over the north Atlantic by the time this post goes live. We're off for 2 exciting weeks in northern California and will be taking in the sites of San Francisco, Napa, Lake Tahoe, Yosemite, Monterey, Carmel and some of the places in between.
The route we're doing is going to be very similar to this...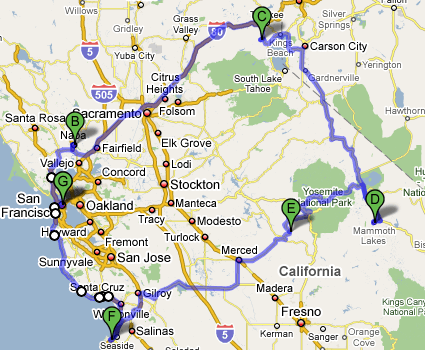 I'm so excited. I haven't been this excited about a holiday for a long time.
I've setup some automatic posts that will keep you updated on where we're off to next.