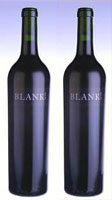 Don't know your Pinotage from your Shiraz or Cabernet Sauv from your Cinsaut, but like wine none-the-less? Or maybe you like really expensive wines, but just can't afford to buy them regularily or are too scared of getting a dud. Well maybe you need a bottle or two of BLANKbottle.
Pieter H. Walser has come up with a novel idea - he makes his own unique blend of wines from various lots that he can get his hands on, and then sells them without a description. There is just the name BLANKbottle on the front and a tag attached to the neck of the bottle which provides a batch name and number. Curious consumers can use this information to find details about the wine's origin on the BLANKbottle web site.
Pieter likes to work on the principal that it's the taste that counts and not the name or type of grape. So, if you don't like it, he'll give you your money back. How cool is that.
I'd love to get my hands on a bottle or two, but unfortunately, he only ships to destinations in SA.