The final few overs of last yesterday's cricket was some pretty exciting nail biting stuff. Some how, South Africa went from steaming to victory against Sri Lanka to scraping through by the skin of their teeth. I think those 4 batsmen (you know who you are) should spend more time worrying about their batting and less time worrying about Malinga's crazy hair and odd bowling style. It's the only thing I can think of that would cause 4 wickets to tumble in 4 balls. Or of course someone was getting a little over confident... hmmmm.

On a more positive note, it looks like Gibbs has been getting some fielding coaching from Jonty Rhodes. This run out (a great YouTube moment, but I can't find it yet)...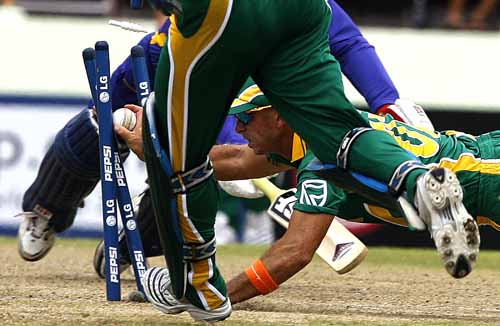 ... looks remarkably like this one in 1992 (on YouTube)...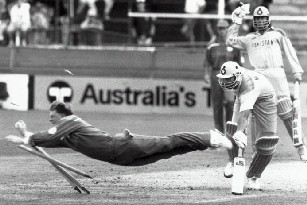 ... just without as much speed and "air". If anyone spots a video of this on the net, let me know - I've not actually seen Gibbs' run out.