Get Very Rich, Very Quick
Yup, you read right, get very rich, very quick, well as quick as it takes you to register an account and buy a ticket for tonight's Euro Million's lottery draw. Just just sit back and relax, with everything crossed hoping your numbers come up for tonight's draw. Check out the jackpot...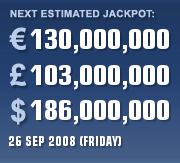 I've got my ticket. Get you're quick. Time is running out for tonight's draw.