Six weeks of action packed rugby kicks off this evening with France taking on Argentina in first match of the 2007 Rugby World Cup, in France.
I think we're in for a cracking tournament with some fabulous games between the top teams. Unfortunately, we'll have to wait until the knockout stages to see the best of these games, bar the game between South Africa and England on the 14th. I think this will be the best game of the opening rounds.
So who's going to win?
If I were a betting man, I'd put my money on one of the southern hemisphere tri-nations teams. This year's world cup in right in the middle of their domestic season, so in theory all their players should be coming into the tournament match fit. That said, these tournaments are always open to surprises.
For a bit of fun, lets assume things turn out as they should and we don't get any funny surprises. Lets take the current pools table...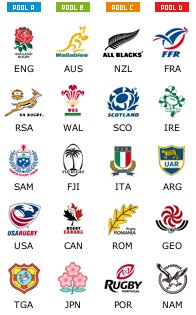 ... and assume South Africa beat England on the 14th, thus putting them top of Pool A, with England as the runners up. Lets then assume the rest of the pools finish as they appear in the image above, from top to bottom. We're only interested in the top two of each pool anyway. With this final pool order, we'd get the following knockout games (Fixtures):
Australia vs England
New Zealand vs Ireland
South Africa vs Wales
France vs Scotland
In theory, each of the teams on the left should win their respective matches, thus giving us the following semi-finals:
Australia vs New Zealand
South Africa vs France
The talk of the town is New Zealand are entering this tournament as the most prepared team of them all, so lets assume they beat Australia, and naturally SA will beat France ;-) . Guess what we get?
New Zealand vs South Africa
Now this would be a stonking match with both teams out to prove something in what would effectively be a repeat of the 1995 RWC final. For those that missed it, South Africa won thanks to a last minute drop goal by Joel Stranski.
So in summary, I think we're in for a great 6 weeks of rugby. I'll have my bum firmly planted in front of the TV by 7:30 this evening with an ice cold beer in one hand and my bag of biltong in the other.
Good luck everyone. May the best team win.