My Office in San Francisco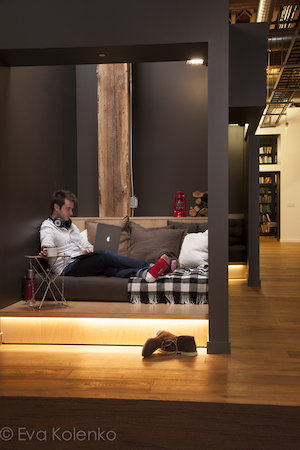 So I've been working for GitHub for just short of two months now and I'm enjoying every moment of it. I work with great people with some of the greatest minds I've ever encountered in a very flexible and creative manner with the freedom and encouragement to do COOL THINGS™.
Now one of the coolest things has got to be GitHub HQ 3.0 in San Francisco. This has got to be the coolest office space I've ever seen and had the pleasure to work in...
In addition to a café on each level, the 55,000 rentable sq.ft., three story LEED gold certified work space located in the heart of SOMA boasts a full bar, commercial kitchen, large and small (themed) conference rooms, phone rooms, a dojo, meditation room, indoor park, hidden speakeasy, library, museum, "coder caves," kid's play ground, and a roof deck lounge.
— IIDA Northern California 2014 Honor Awards People's Choice
Don't believe me? Check out the pictures and blurb in our nomination for the 2014 IIDA Northern California Honor Awards and then go and vote for us, or at least the designer, here (it's number 23).
I wish I could cycle the 3km I used to to get to this office every morning.