Take a look everyone, this is the new Springbok coach - Peter De Villiers: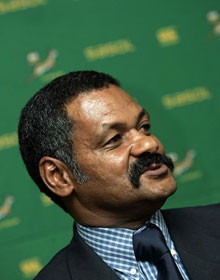 I can't really say if I agree or disagree with his selection as the new Bok coach as I can't say I've actually heard of him prior to this. I don't ever recall him playing for the Boks (not that Jake White ever did), nor do I recall him coaching at the top level within SA rugby (actually, come to think of it, I don't think White did either).
Anyway, prior to his selection, he was the Boks Under-21 coach (like White was), so maybe this will count towards something, but once again, I don't know much about his track record as the baby-Boks coach either.
One thing I do know is he has certainly got some huuuuuge shoes to fill. I just hope he's got the same conviction as White to make his own selection and play decisions, and doesn't become a puppet to the politicians.
For the moment, I'll reserve judgment until I've seen the results of his work. Good luck Peter. I certainly hope you can prove the "it's just cos he's black" critics wrong.