The Nikon 18-200mm VR Lens
Just before we went away for our summer holiday this year, I treated myself to a little present - a nice big fat lens for my camera - the Nikon 18-200mm F3.5-5.6G IF-ED AF-S VR DX.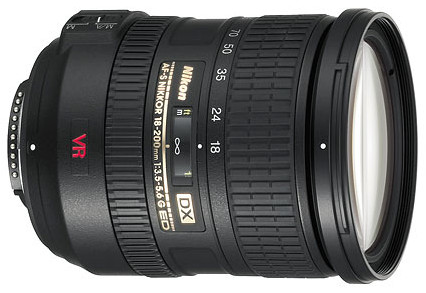 I've had my eye on one of these babies for a long time, but sadly I didn't have the cash or a good reason to part with my cash. That all changed just before we went on holiday; I was in the fortunate position of being able to meet both requirements. I'd been saving a fair bit for a while so the cash side was covered. I then discovered the motor on my kit 55-200mm lens (aka the cheapie one that came with the camera) seemed to pack in and stop working properly: it did more grinding than zooming and just wouldn't focus.
Sound in my mind that I could substantiate buying a new zoom lens to myself, I set about hunting down what to get. I really wanted a single lens that catered for all events. I know you tend not to get the same speed and quality with these large focal range lenses when compared to lenses that cover a smaller focal range, but I'm not a pro and convenience is of more importance to me than a mega high aperture. The Nikon 18-200mm fits into this category beautifully and has had rave reviews ever since it was released way back in 2005, so it was naturally first on the list.
Next to go onto my list were the cheaper equivalent lenses from other manufacturers, notably Sigma and Tamron. First the Sigma lenses in this focal range: the Sigma DC 3,5-6,3/18-200 OS HSM lens (with image stabilization), the Sigma 18-200mm f/3.5-6.3 DC lens (without image stabilization) and the much cheaper Sigma 18-200mm f3.5-5.6 DC lens were added to the list. Then the only offering from Tamron: the Tamron AF 18-200mm F/3.5-6.3 XR Di-II LD lens.
Next it was review time. Google became my friend here. I spent a very long time finding as many pictures and reviews as I could for each of these lenses and slowly built up a mini profile for each lens. I then stumbled upon this great comparative review from Camera Labs which very conveniently compared the Tamron, the Sigma 18-200mm f/3.5-6.3 DC and the Nikon (they refer to it as the Nikkor) in a single review.
Their final verdict essentially sums up what I found with all my searching...


Ultimately there's not a great deal to choose between the Tamron and Sigma 18-200mm lenses. A handful of our results favoured one over the other, but neither took a decisive lead overall. Since the prices are essentially the same, we therefore have to call it a draw, and leave the final decision between which personally looks and feels better in your hand.

Which brings us to the Nikkor. It may offer the same focal range, but sports three key differences. Most importantly, there's the inclusion of Vibration Reduction which as we illustrated in our review, effectively combats camera shake. Secondly there's the slightly optically faster focal ratio of f5.6 at the telephoto end. Third, the Nikkor model boasts noticeably superior build quality which extends to the smoothness of the mechanics and silence of its focusing. In terms of our results, it also took the lead in corner sharpness and vignetting at wide angle, although the macro reproduction was less impressive.
As this was going to be a big expenditure, from which I wanted a good return on my money, I opted for the more expensive Nikon lens (along with a protective filter - I always buy a UV filter for added protection) and I'm so glad I did.
This has got to be the most versatile lens I've ever owned, and probably ever will own. I took it away with us, along with my Nikon 50mm F/1.4D Af Nikkor Lens and never actually took it off the camera. I didn't use the 50mm at all, and I didn't regret it either.
The Nikon is quick focusing, quiet and incredibly versatile: I didn't need to change lenses once. I didn't get the feeling that I needed to get closer or further away from a scene just to capture the whole scene as I wanted. I didn't need to use my tripod and best of all, whilst attached to my camera, it fitted well into my backpack when we went cycling.
When we got home, I was very very impressed with the photos I took, from both my own skill point of view, but also the great quality - check out the images in my gallery from that trip and the few I've included in this post. Every single photo was taken with the Nikon 18-200m lens with very little, if any post-processing.
All in all, I'm very impressed with this lens and I'm glad I went for the more expensive Nikon. I envisage this lens getting a lot of use over it's life time. In fact, it hasn't come off my camera since I first put it one.