Orange San Francisco Android Phone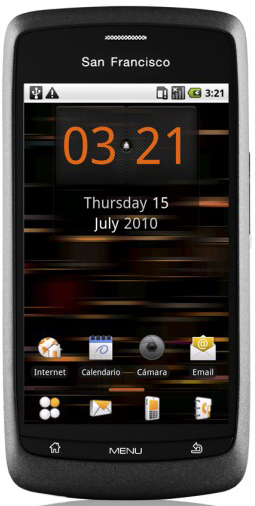 News came out last week that Orange was releasing a super cheap Android based pay-as-you-go phone for £99: the San Francisco. Whilst the Nokia N70 I have at the moment is quite good and does a splendid job of doing what I use it for: making calls and sending text messages, it's not quite on par with the likes of the iPhone and the Android based phones when it comes to fancy-schmancy features. It also doesn't have the hack-ability that the Android phones have. I've also been quite eager to get my hands on an Android phone to tinker and see what all the fuss is about.
With the news of the new phone from Orange hot off the press, I popped into our local Orange shop on Saturday to take a squiz and I was quite impressed with the appearance and build (good solid plastic rather than cheapie stuff or heavy metal). With Claire in-tow, we went back a few minutes later and Claire kindly used some of her bonus and bought me a new gadget along with the obligatory £10 top-up. Of course I couldn't wait to get it home, so we popped into Starbucks and I had a little tinker over a drip coffee. Impressive, the phone, not the coffee though it was good too ;-).
Once home, I got to really take it for a spin and I'm still impressed. Initial appearances are, well, Orange. As can be expected it's been Orange-ified though it seems to be mainly from an aesthetic point of view (easily changed), with a few uninstallable (without rooting) Orange specific apps.
The WiFi, 3G and GPS worked flawlessly. The screen is slightly smaller than my iPod touch, but equally clear and readable. Scrolling through the menus and loading apps seems quite responsive and certainly quick enough for me. Call clarity it good. Internet browsing is good, though I have since discovered the default browser is quite a bit slower than the downloadable Dolphin browser. The phone also comes with animated (live) wallpapers, an FM radio (not sure why you'd want one on a phone) and a good selection of apps pre-installed.
One of the best things I think, is it comes with GPS too and it's proper GPS, not the 3G based GPS, though 3G can be used to assist the GPS. With a bit of planning and a few additional apps, this can be used completely disconnected from the internet and effectively gives you a highly functional world-wide GPS unit for £99.
The only problems I've discovered are that it is was SIM locked, the default Orange weather app doesn't work - it hangs and never actually displays the weather, and the free download data on the Orange pay-as-you-go packages is quite feeble.
So all in all, I'm very impressed. You get a lot of phone for your £99.
For the hackers out there, the San Francisco is actually a "ZTE Blade" and there is a wealth of hacking/modding information here.