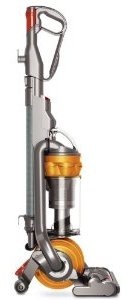 For years now, Claire and I have had a rather useless little pull-along bagless vacuum cleaner. It seemed to work quite well when we first got it (in comparison to the pile-o-rubbish it replaced), but with time it soon got on my nerves (I do all the vacuuming). It just didn't suck enough. When I vacuum, I expect most of the dirt to be picked up on the first pass of the vacuum, with only a small amount (near the edges) possibly needing a second pass. Our old vacuum cleaner needed three or four passes just to pick everything up. As we've got laminate flooring throughout, it's very easy to see when the vacuum hasn't done what it's meant to and I soon got very fed up with vacuuming the house three or four times in one go.
I've been threatening to chuck the old vacuum and get a new one for some time, but never got around to it, especially as I've had my eye on a Dyson and always thought it a bit expensive for a vacuum cleaner. That changed this weekend when I discovered Sainsburys were knocking £100 off the exact model I wanted - a Dyson DC25. Given my good experience with coughing up a bit more for common household appliances - we bought a very good iron a couple of months back that was a little on the dear side, but well worth the money - we decided to stump up for a Dyson.
What a good idea. I got the beasty home and was instantly impressed by the attention to detail as I took it out of the box and assembled the pieces. Everything brilliantly clicks together with no effort what-so-ever. The Dyson DC25 comes with two little attachments - a "combination tool" and a "stair tool" - and has little slots for these to be stored on the vacuum itself when not in use.
Using them is easy. Suppose your vacuuming and notice a hard-to-reach spot, like down the side of the wardrobe: just prop the vacuum upright (no need to turn it off), flip the red lid on the top of the handle, click in your choice of attachment, draw your sword quick-draw telescope reach wand and reach into those hard-to-reach places. Then reverse the steps and carry on vacuuming. Brilliant.
The ball also makes the vacuum incredibly maneuverable. You can literally turn 90 degrees with a flick of the wrist so you can literally whizz around the house without having to cover the same spot more than once or twice and without having to move too much furniture.
With these great innovations, and it's super-suck-ability which didn't diminish at all, I flew round the flat and had the vacuuming done, the vacuum emptied and put away in literally half the time, with half the effort or frustration when compared to the old vacuum. And I even moved and vacuumed the furniture too.
So all in all, I'm quite impressed with our new vacuum cleaner and like irons, vacuums are definitely something worth spending the little extra money on for a good quality appliance. Now to save up for a few more attachments that will make cleaning the cars and blinds easier :-) .