Claire and I have now been married for 11 days, and whilst we don't have our official photos yet, I thought I'd detail our big day for those that couldn't attend.
This is actually the first of a series of posts that I'll post over the next few days as there's so much to write about and I'd rather give it to you in bite sized chunks than one large mammoth post, though each of the posts may be quite large.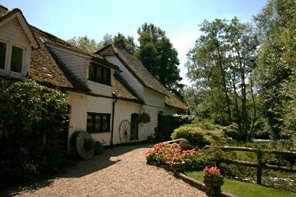 Claire and I got married at 2pm on 4 July 2008 at The New Mill in Eversley. The New Mill is technically a restaurant, but it is a licensed wedding venue and caters for parties and weddings small and large in it's beautiful setting on the banks of the River Blackwater.
The day started with me waking to an empty bed and the pounding of small footsteps around the flat. Claire stayed at her folks on the Thursday evening and Sami is about as graceful as an elephant. I think she was also very excited about the whole day so wasn't eager to settle down and do just one thing. You'd think she was the one getting married not me :-) .
To cut a long story shorter, Mum served my last bachelor breakfast, I finished off putting together the music playlist for the evening, took delivery of the button holes, corsages and bride and bridesmaid bouquets and then went for a quick run - I had some errands to do and the run would help me relax.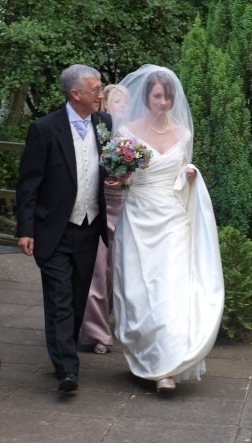 Fiona and Alan (my bestman) arrived just as I arrived back from my run and the gents got dressed into our finery as the ladies goo'd and gaa'd over Lizzie. I was starting to get a bit anxious about time now as I needed to get the bouquets over to the hotel where Claire was getting ready by 12:45 and then still get to the venue by 13:00. Well, my little motor didn't let me down and Alan and I made it in plenty time.
Once at the venue I setup my stereo ready for the evening and then waited. I had this incredible feeling I'd forgotten something, but couldn't for the life of me think what. Cake - check; flowers - check; music - check; table decorations - check; bestman - check; speech - check; rings - check; guests - check-ish (they're starting to trickle in now); bride - well, we'd have to wait and see. Maybe it was just pre-wedding jitters. Something so big, which took so long to plan and organise seemed to just fall into place too easily. Must be Claire's great organisational skills.
I then got to have my time with the registrar, paid for the marriage certificates and then mingled with the guests whilst Claire, who arrived whilst I was in with the registrar, had her meeting with the registrar and we waited for the last of the guests to arrive (someone relied on SatNav just a little too much ;-) ).
Not long after 14:00 all the planning, preparation and waiting came to an end as Claire made her grand entrance. She looked so beautiful that it took a lot for me to hold back and not start blubbing like a big girls blouse.
The ceremony passed with only one little mishap - I forgot the start of one of the phrases I needed to recite after the registrar, so did as she suggested and kept quiet waiting for her to repeat the words. I hoped no one would notice, but I wasn't so lucky - EVERYONE noticed and after a little chortle I completed my words and the ceremony proceeded and we were pronounced Husband and Wife. We then made our way out into the glorious sunshine for Pimms or orange juice, canapés and photos.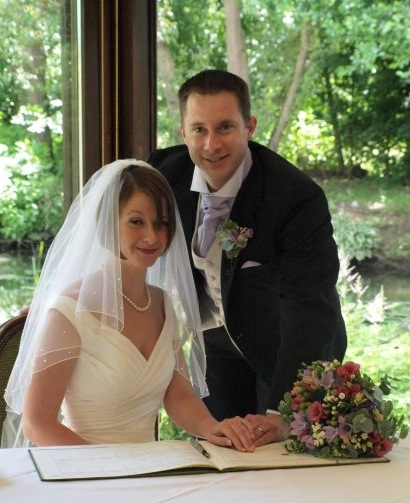 After lots of photos, a few Pimms and a taste of the canapés it was back into the Garden Room for the wedding breakfast - I have no idea why they call it a breakfast, especially when it was served at tea time.
The breakfast menu was:
Crispy tartlet of English goats cheese with oven dried tomatoes,
caramelised onions and rocket pesto
...
Organic lemon roasted free range chicken with a garden spinach
and crème fraiche foam on mashed potato
...
Summer pudding with blackcurrent coulis and vanilla ice-cream
... served with a choice of the following wines:
White: Mauzac Sauvignon Blanc, Domaine Vigne Lourac Vin de Pays, France
Red: Merlot Carta Vieja, Loncomilla Valley, Chile
As can be expected, the food was cooked to perfection, a decent portion size and was incredibly tasty.
With our bellies full, and glasses charged the speeches commenced with some very kind and encouraging words from Ian, followed by me and then Alan. I had to ad-lib a bit in my speech as I'd originally written that Claire took my breath away the moment I saw her, but that wasn't completely true. I admitted I nearly started blubbing, and as I said that I got all emotional again. I might have a rough exterior, but deep down inside I'm just a big softy, especially when it comes to the most important person in my life.
After the speeches, coffee and chocolates were served back in the Old Mill part of the building and Claire and I set to mingling and catching up with our guests. We'd hardly had a chance to speak on a one-to-one basis to any of the guests that weren't on the top table. Before I knew what was what, all our evening guests had arrived, the buffet of cheese, biscuits and paté, with carrot cake as a sort of dessert, was served and it was time to cut the cake and have our first dance.
The rest of the evening was spent mingling and generally having a good time.
All in all, the 4th of July 2008 was a fantastic day. The weather was glorious, the company great, the service and support of the team at The New Mill fantastic and it was certainly a day I'll NEVER forget.
Update: I've now posted details as to why we chose The New Mill for our wedding.
As I mentioned at the top, the professional photos aren't ready yet, but in the mean time check out those taken by guests (I'll update this list as I get more links):