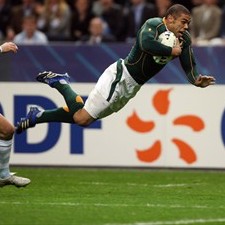 Wooohooo!!! The Boks are into the rugby world cup final against England next weekend, and what a game it's going to be.
In a way, I can't wait until the world cup is over - the anxiety generated by each of the recent games has been unbelievable, and last night was no exception. Granted, it wasn't as nail biting as some of the previous knock-out games, but it was still a great game. Argentina, as they have in the entire world cup, played out of their socks. They have proven to the world that they're a force to be reckoned with, and deserve their #4 slot in the world rankings. As for South Africa, they've lived up to the expectations placed on them.
Saturday's game is going to be very interesting and exciting. Both teams will have something to prove: England are going to want to prove the earlier white-wash was just a once-off, and South Africa want to prove it was not. Both teams are in fine form and hungry for the trophy.
I do have one regret - I wish I'd put money on Bryan Habana being the top try scorer for the world cup. That guy is amazing, and I just love how he always launches himself across the try line, even if he's not under any pressure. Watch this man closely on Saturday - England certainly will be.