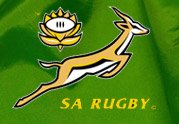 South Africa were sooo close to winning today's game.
I'm working, so I had to resort to using the rather biased Five Live commentary to listen to the game. From what I heard, it seems all these boyjies need is a bit more experience, improved fitness and the 13 okes sitting on their arses resting at home in sunny SA and they'll be kicking some ass. Talking of kicking... it sounds like Francois Steyn has quite a boot on him, and he's only 19 (Five Live kept going on about this). Could he be the next Naas? Could we see him taking penalties from well within his own half? He certainly seems happy to have a go at the odd drop-goal or two. Only time will tell how good he turns out - that same time that will tell is Jake White keeps his job.
In true South African fashion, only one year out from the world cup, people are are calling for him to be axed without actually thinking about what he's doing. He's following the wishes of the SA Rugby board - he's trying out new talent. He's experimenting in order to add more depth to the SA team. Give him the time and let him prove himself with a full complement of players and a stack of new talent and if he cocks it up, then give him the boot, by all means.
He's either got to be getting something right if a young, inexperienced, experimental team managed to only lose by 2 points to the current world champs, or England are really that bad at the moment ;-).