Stop Watching the Adverts
Whooops, seems Robinson was so busy watching the Borat adverts on the side boards, during Englands 2-0 defeat to Croatia, that he didn't quite manage to make contact with the ball so nicely passed back by Gary Neville...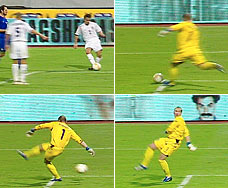 Gary Neville's first goal for England, and it was in the back of his own net. Ha ha ha ha ha.
On the topic of football, it was good to hear Bafana Bafana finally managed to win a game.