Who Said You Don't Get Tigers in Africa?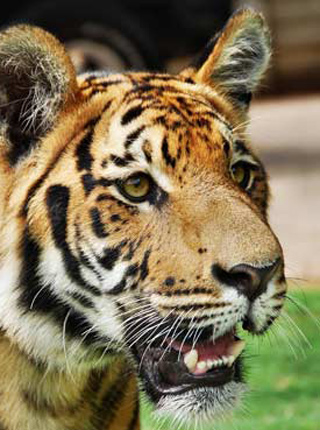 Someone once told me "don't be silly, you don't get tigers in Africa" when I said I was going to the bush to see 'lions and tigers' in my thickest South African accent. Well, they're wrong. Monday, Tuesday and most of Wednesday saw Africa with a real live bengal tiger roaming the bushveld. Yes, a real tiger (pictured) was loose in the African bushveld.
So how did it happen? Well, on Monday, a man in the small town of Delmas in Mpumalanga, South Africa decided it was a good time to take his 145kg hand-reared bengal tiger to the vet to be vaccinated and chipped (just in case he got lost ;-) ). Like every pet going to the vet, Panjo had other ideas. Panjo must have been watching all the TV programmes about how beautiful South Africa is and decided to check it out for himself so he hopped out the back of his dad's bakkie (flat-bed truck) and went for a mosey instead.
Naturally, all pandemonium broke loose and people started to panic and the searching began. Two days later, and quite some distance away, Panjo was found safe and sound in Verena. Given what's between Delmas and Verena - lots of nothing with a two nature reserves and a great big dam - I think Panjo had a great mid-week break seeing the best wildlife Africa has to offer and will be happy to get back to his home comforts...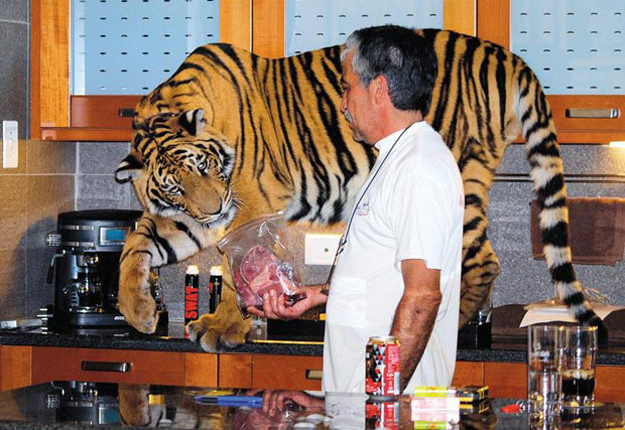 So there you have it. Africa does did have a tiger in the bushveld.
How amazing would it be to have a bengal tiger as a pet? From the picture above, and the others in the article, it looks like it's just like having a normal domestic cat, except maybe for the ravenous appetite. I want one.
Dear Santa...