World Record Cricket - Pure Carnage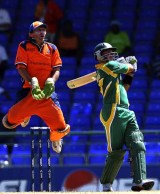 Granted, The Netherlands aren't really a great cricketing nation, but they certainly have helped get the Dutch into the record books (not in the good way) courtesy of their day out in the field today. And what a cracker it was.
First, Herschelle Gibbs made not only World Cup history, but world cricket history by klapping Daan van Bunge for 6 sixes in a single over (30th) - the first time ever in an ODI. Then Mark Boucher hit the fastest fifty in World Cup history off only 21 balls and if that's not enough to make the Dutch feel a bit tender, South Africa then went on to set a record for the most sixes in an innings in an ODI. Oh, and South Africa also made their highest world cup score of 353, beating their previous score of 328 (also against The Netherlands in 1996). I nearly forgot - there were also 3 century partnerships - once again a first ever in an ODI. What makes all these records even more impressive is that they were all done within 40 overs - all previous records were achieved in the normal allotted 50 overs. Imagine the records had SA had 10 more overs.
So from a South African point of view, it was a marvellous day for batting. Pity it wasn't Australia getting the pounding, and it's a bit disappointing the Dutch weren't a more formidable force to be reckoned with. We'll have to wait until next week to see if this game (and the one against Scotland) will have given SA enough practice in preparation for the mighty Aussies on the 24th.
Click on the image to see a larger view - I'd love to have seen the keeper's face when Gibbs klapped his 6th 6.
On a lesser note, pity about England vs New Zealand.