Zuma Thinks He's in the US
After Jacob Zuma was cleared of rape charges several months ago, he's now decided to sue the media for a whopping R63m (£4.7m / $8.8m / €6.8m) for defamation. This may not be much when you convert it to other currencies, but it's a huge amount in Rands. Of this, there is a claim against the Jonathan Shapiro, better known as cartoonist Zapiro for R15m claiming several of his cartoons slandered Zuma's reputation. Quite aptly, Zapiro responded with "What reputation?" and summed up the whole ordeal with this cartoon in the Star newspaper on Thursday: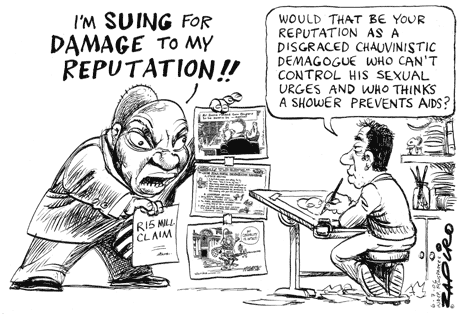 Wakey wakey Mr Zuma - you're in South Africa, not the US. SA courts don't hand out judgements for silly amounts of money like this.
Update: Hogarth sues Jacob Zuma for R7.2bn hee hee hee